Solo Lyra Viol music of Tobias Hume (1579-1645): Historical context and transcription for modern guitar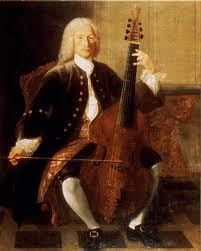 The seventeenth century in England produced a large and historically significant body of music for the viola da gamba played "lyra-way." Broadly defined, playing "lyra-way" on the viol meant playing from tablature notation in a polyphonic style. Most players of plucked strings such as lute and guitar are familiar with tablature and, as a result, have a decisive advantage when attempting to explore this music. Other factors that make lyra viol repertory potentially attractive to the modern guitarist are its chordal textures, similarities in physical properties of the instruments, and many points of connection regarding the principles of left hand technique.
The purpose of this study is two-fold: 1) to illuminate the historical and cultural context of the seventeenth-century English lyra viol music in general and that of Tobias Hume (c. 1579-1645) in particular; and 2) to present an idiomatic transcription for the modern guitar of four representative pieces from Hume's 1605 collection Musicall Humours.
Musicall Humours, published in London in 1605, is one of the first and most significant collections of music for the lyra viol. The collection is both ambitious and groundbreaking, being the largest repertory of solo music for the lyra viol by a single composer in the early seventeenth century.
Since the modern guitar, although not as contrapuntally facile as the keyboard, is nevertheless capable of executing two- or three-voice polyphony, reconstruction of the polyphonic implications of solo lyra viol music becomes the first step in creating an idiomatic arrangement. The differences in acoustical properties and technical capabilities between the viol and the modern guitar have to be taken into consideration when deciding on the degree to which harmony must be filled in. Generally, thinner textures of the lyra viol music, when transferred directly to the guitar, tend to sound incomplete. The arranger's musical sensitivity and intimate familiarity with both instruments must guide the final stages of the transcription process.
Solo-Lyra-Viol-Music-of-Tobias-Hume