A Comparative Study of Rhythm Guitar Styles
Chord Diagrams by Mark Allen
August 2002
Introduction
Freddie Green's rhythm guitar style is unique - - Freddie does not sound like other famous rhythm guitarists. This lesson attempts to illustrate his uniqueness by comparing five different examples of a twelve bar blues in G. These examples are not transcriptions. All five examples were composed by the author in the style of the player, or in the style of the music.
Note: Be certain to mute any string that is not fingered, but strum all the strings. See Appendix 1 for a primer on rhythm guitar technique.
Example #1 - Western Swing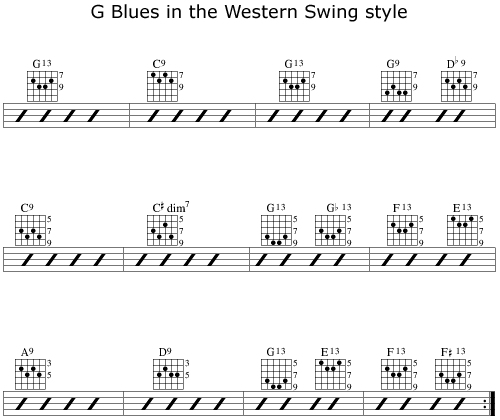 This style was born in the late 1940's with the rise of Western Swing - a hybrid of western-themed songs with jazz rhythm and harmony. Note the four note rhythm chords and the use of dominant 9th and 13th voicings. Though this style of rhythm guitar could be played on a flattop instrument, an archtop guitar was typically used. Examples of this type of guitar can be heard on recordings from Bob Wills and His Texas Playboys, Riders In The Sky, and Dan Hicks & His Hot Licks.
Example 1A and 1B are compliments of Ranger Doug Green, the superb rhythm guitarist with Riders In The Sky.
Example #1A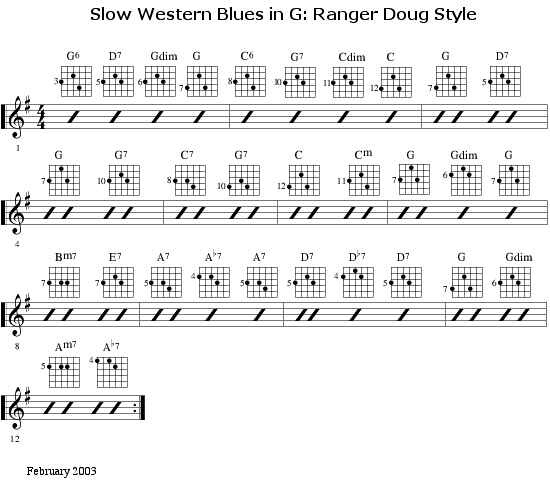 Example #1B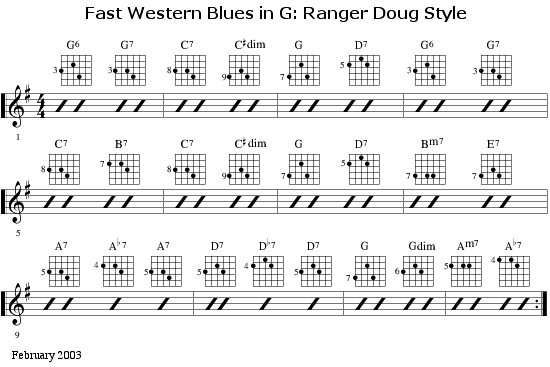 Example #2 - Allan Reuss (see Appendix 2)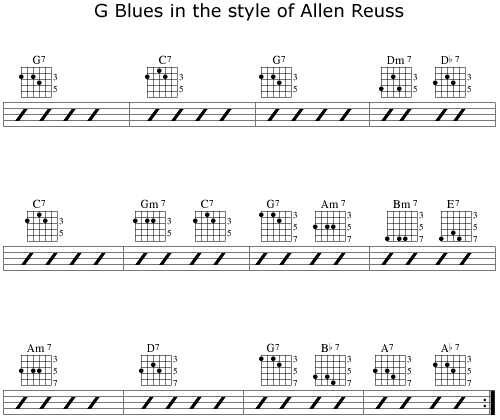 This style of aggressive, yet swinging rhythm playing came about as the guitar replaced the banjo in big bands. Note the widely spaced three note voicings. These voicings have an uncluttered quality and are easy to finger, thus allowing very fast chord changes.
Example #3 - Teddy Wilson (see Appendix 3)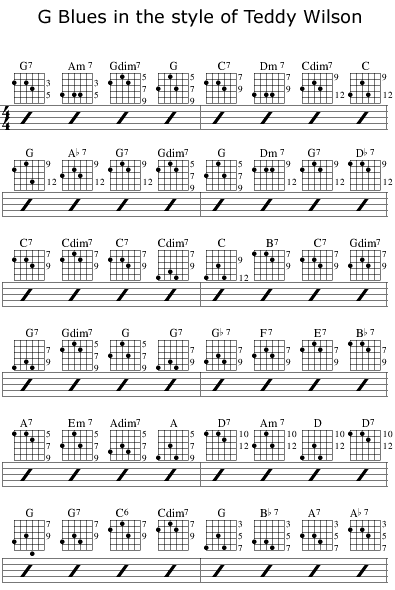 Pianist Teddy Wilson's style of playing influenced all rhythm guitar players in the 1930's and 1940's. Wilson created a unique harmonic style where a new chord voicing would be played on each beat. He had very large hands and developed two and three note left hand voicings that were impossible for most pianists. The interval between the lower left hand voice and the higher voice was a major or minor tenth. Difficult on piano, a tenth is easy on guitar by using the 6th and 3rd strings as these two strings are tuned a minor tenth apart. Often Wilson added a middle note to the chord that would be a minor 6th, major 6th, minor 7th, or major 7th above the lowest note. On guitar, this middle voice would be played on the 4th string. These three note "Teddy Wilson" chords form the foundation of big band rhythm guitar voicings.
Example #4 - Barry Galbraith (see Appendix 4)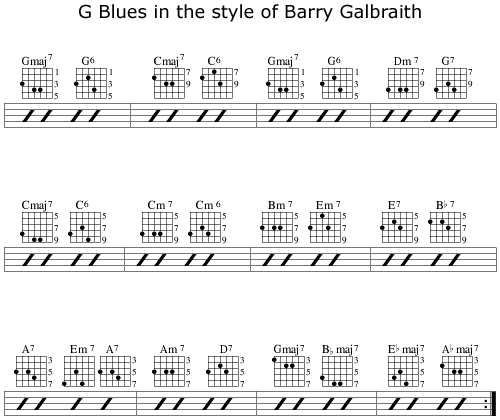 This style is not as aggressive as Example #2. It is a cooler, more subtle style and harmonically more adventurous. Typical of big bands in the 1950's, the guitar would be miked and therefore the guitarist would not have to strum as hard to be heard.
Example #5 - Freddie Green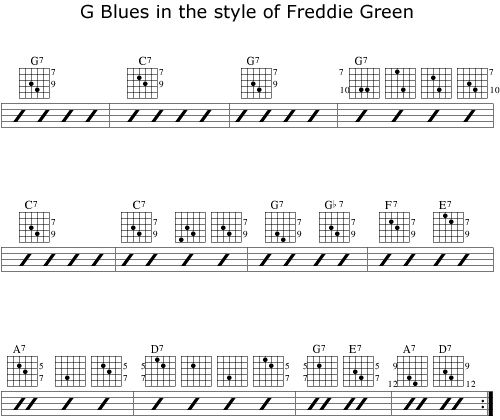 Much like Basie simplified his piano playing as his band grew larger and played more complex arrangements, Freddie Green did as well. His guitar style is based on the three note voicings shown in Examples 2, 3 and 4, but he would often choose to sound only one or two notes of the three note voicings. This technique allowed Green to create counter melodies and moving lines that did not conflict with the bass player or with Basie.
Appendix 1
Fundamentals of Swing Rhythm Guitar
What types of music use this style of rhythm guitar?
Swing Big Band - Count Basie, Benny Goodman, Woody Herman

Western Swing - Bob Wills and His Texas Playboys

Gypsy Swing - Django Reinhardt and the Hot Club of France
What type of guitar is used?
Archtop (f-hole) acoustic guitar with heavy strings.

Use a pick with a thickness of 1.0 mm to 2.0 mm.
What are the basics of swing rhythm guitar?
Four strums to the bar: hold down a chord with the left hand, and strike the strings with the right hand on every beat of the tune.
Rhythm guitar is about time, not about complex chord voicings: concentrate on time.
"Choo-chit-choo-chit" describes the rhythm guitar sound. "Choo" on beats 1 and 3; "chit" on beats 2 and 4. Beats 1 and 3 have a longer sound, while beats 2 and 4 have a much shorter sound. Create the "chit" sound by releasing the left hand pressure almost immediately after the strings are struck. The beats 2 and 4 "chits" should be slightly accented over the beats 1 and 3 "choos".
The right hand stroke uses the shoulder, the elbow, and the wrist. The right hand motion must create a quick, crisp attack.
The rhythm guitarist's job is to propel the rhythm forward by complementing the drummer, if there is one. The rhythm guitarist is playing pitched percussion. Think of the guitar as adding pitches to the ride cymbal on beats 1 and 3, and to the high hat on beats 2 and 4.
The rhythm guitar part must be barely quieter than the drums. The guitar part should be more felt than heard. The guitar part is often times more for the benefit of the other musicians (to drive the rhythm home) than for the listeners.
Primarily use three note chord voicings on strings 6, 4, and 3; and four note voicings on strings 6 (or 5), 4, 3, and 2.
Avoid barre chords. They sound muddy when playing this type of rhythm guitar.
IMPORTANT: When playing the chord diagrams in the examples, mute any string that does not have a finger dot. This muting is done by the left hand. The number of strings muted depends upon the chord voicing; it can be as few as two strings muted and as many as five strings muted.
Thank you to guitarist Tim Berens for many of the ideas expressed above.
Appendix 2
Allan Reuss - rhythm guitarist
Born New York City, 1915, Reuss studied with George Van Eps in 1933. Van Eps recommended Reuss as his own replacement with the Benny Goodman Orchestra in 1935.
From the book Benny Goodman and the Swing Era, by James Lincoln Collier: "George Van Eps also left the Goodman band, but this was his own decision. He knew that the band would eventually go on the road, which he did not want to do, and he began grooming a student of his named Allan Reuss, who was driving a laundry truck, to take the guitar chair. Reuss soon began playing whatever club dates the band picked up, and finally replaced Van Eps on the radio show (the "Let's Dance" show) near the very end. As a student of Van Eps, Reuss descended from a princely line of guitarists and was schooled in a tradition of hard swinging. He went on to be one of the finest of the big band guitarists and can be ranked with such great rhythm players as Basie's Freddie Green, Fats Waller's Al Casey, and contemporaries Dick McDonough and Carl Kress. Moreover, Reuss, who was getting formal training under Van Eps, was harmonically more sophisticated than some of the self-taught guitarists in jazz. Goodman's drummer, Gene Krupa, tended to have a heavy beat, and was no believer in metronomically exact time. Harry Goodman (Benny's brother), too, was never considered a master bass player. It was Reuss that was crucial in giving the Goodman band its romping swing. Author James T. Maher once said to Benny Goodman that he had not realized how important Reuss had been until he was gone. Goodman's response was, 'Neither did we.'
"Allan Reuss was as good as any band guitarist of the period. Reuss accented on two and four, which not many rhythm guitarists of the time did. The Goodman rhythm section (Reuss, Krupa, Harry Goodman, Jess Stacy) stayed together right through the whole period of the band's early success, coming to know what to expect of each other and how to coordinate themselves in a way that rhythm sections casually thrown together for a recording session or club date cannot do. Goodman told the horn players, 'The rhythm section is not there to drag you through the piece. They're another section punctuating your notes.' "
Reuss' playing with Benny Goodman is hard driving and exciting; Goodman demanded a tight, almost tense, rhythmic feel from the band. Unlike the Basie band where the beat is laid back, giving a very relaxed feeling, the Goodman band tended to push the beat which gave the effect of a rushing excitement. According to a Goodman sideman, "You were always on the edge of falling, like running down a hill." Pianist Mel Powell described the Goodman rhythmic feel as, "Gritted teeth playing. No laying back. Hard driving. No lollygagging."
Reuss left Goodman in March 1938 to freelance in the recording studios, and he also taught guitar in New York. It is possible that Reuss gave guitar lessons to Barry Galbraith and Freddie Green as both mentioned Reuss as a major influence.
In 1939, Reuss worked with Jack Teagarden and Paul Whiteman. He toured nationally with Ted Weems in 1941/42, and with Jimmy Dorsey in 1942. After Dorsey, Reuss worked in the NBC studio orchestra in 1942/43. Reuss rejoined Goodman in 1943/44, then went with Harry James in 1944/45. During this time, he won reader's polls in "Metronome" and "Down Beat".
After Harry James, Reuss led his own trio in Los Angeles. After that, he concentrated on studio work and teaching.
Although Reuss was primarily a rhythm guitarist, he occasionally soloed as well. His solo style was an intense rhythmic chordal type (ala George Van Eps) or an economical single note style. In 1935, Reuss played solos on "If I Could Be With You" and "Rosetta" with Benny Goodman, and he had some short solos on Lionel Hampton records from this period. In 1939, he recorded "Pickin' For Patsy" with Jack Teagarden. His solo work from the 1940's can be heard on recordings by Corky Corcoran, Benny Carter, and Arnold Ross with the Ross material offering some of the best examples of Reuss's solo style.
Hear Reuss on recordings with:
Benny Goodman - on RCA Victor and Columbia
[Extraordinary rhythm guitar on "Ridin' High", recorded live November 2, 1937]
Lionel Hampton - on Bluebird
Coleman Hawkins - on Capitol
Harry James - on Capitol
Gene Krupa - on World Records
Jack Teagarden - on Swing Era
Paul Whiteman - on MCA
Teddy Wilson - on CBS
Appendix 3
Teddy Wilson - pianist
Theodore Shaw Wilson (1912-1986) grew up in Tuskegee, Alabama, and briefly studied music at Talladega College. After working in Chicago with Jimmie Noone, Louis Armstrong, and others, he moved in 1933 to New York and joined Benny Carter's band. He played informally with Benny Goodman in 1935 and officially joined Goodman's trio the following year, thus becoming one of the first black musicians to appear prominently with white artists.
Wilson remained with Goodman until 1939, performing on many of the latter's small group recordings and also on recordings under his own name with other important swing musicians, such as Billie Holiday and Lester Young. After leaving Goodman he briefly led his own big band in 1939/40, and thereafter worked primarily as a leader of small ensembles and as a soloist.
Around 1950 he was an instructor at the Juilliard School in New York. He often rejoined Goodman for reunions, most notably for a tour of the USSR in 1962, an appearance at the Newport Festival in 1973, and a concert at Carnegie Hall in 1982.
Wilson was the most important pianist of the swing period. His early recordings reveal a percussive style, with single-note lines and bold staccatos, ala Earl Hines. By the time of his first performances with Goodman he had fashioned a distinctive legato style that served him for the rest of his career.
Wilson's style was based on the use of 10ths in the left hand. By emphasizing the tenor voice and frequently omitting the root of the chord until the end of the phrase he created great harmonic and contrapuntal interest. For the right hand he adapted Hines' "trumpet" style, playing short melodic fragments in octaves, frequently separated by rests and varied with broken-chord passage work.
Hear Teddy Wilson on recordings with:
Benny Goodman - Columbia
Billie Holiday - Columbia
Teddy Wilson Orchestra - Columbia and other labels
Appendix 4
Barry Galbraith - rhythm guitarist
Barry Galbraith (1919 - 1983) is one of the most recorded jazz guitarists of all time. Galbraith grew up in the Pittsburgh, Pennsylvania area. In 1941, he was staff guitarist at radio station WJAS in Pittsburgh, and also worked with Red Norvo, Teddy Powell, and Babe Russin. Galbraith then joined Claude Thornhill's band in the latter part of 1941. In 1942, he joined Hal McIntyre.
Galbraith served in the U.S. Army from 1943 to 1946. He returned to the Thornhill band in 1946. In 1947, Galbraith began worked for NBC and CBS in their studios. By 1950 he was working as a studio musician in New York City and was in high demand. He commonly appeared as sideman. His recording "Guitar and the Wind" was his only recording as leader. In the 1950's, Galbraith recorded with many artists, including Les and Larry Elgart, Hal McKusick, Sam Most, Don Elliott, and George Russell.
During the 1960's he developed trouble with his left hand movement. It was diagnosed as calcium deposits on his spinal column. In 1969, Galbraith had surgery that seriously affected his playing ability. After surgery, he played less and concentrated more on teaching. He produced a remarkable series of instructional jazz guitar books that are still in print.
Barry was an exceptional rhythm guitarist as well as a versatile electric player. He was perhaps the best reading guitarist in New York City and consequently was hired for many of the jazz record dates that required sight reading. Barry was also a life-long student of music. He studied classical guitar, Flamenco guitar, and attended the Manhattan School of Music as a piano student.
Hear Galbraith on recordings with:
Les and Larry Elgart - on Columbia
Gil Evans - on Impulse
Tal Farlow - on Verve
Johnny Guarnieri - on RCA
Coleman Hawkins - on Milestone
Hal McKusik - on Bethelem and Coral
George Russell - on RCA
Claude Thornhill - on Columbia