Santiago de Murcia´s Cifras selectas para guitarra: A new source for the baroque guitar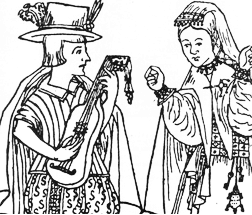 The manuscript "Cifras selectas de guitarra" (1722) of Santiago de Murcia (1673-1739) was found by the musicologist Alejandro Vera in Santiago, Chile, during research undertaken between 2003 and 2004. The seventy pieces in the manuscript in its current state (the last fifteen folios are lost) combine Spanish dances, suites, pasacalles in different meters and modes, French dances (mainly minuets) and some marches, including both new pieces in strict sense and new versions of preexistent settings by Murcia himself.
In this sense, "Cifras selectas de guitarra" represents a synthesis not only of Murcia's music as a whole, but of the genres cultivated by the guitarists of his time. The present album consists of a representative anthology of such a repertory.
Santiago de Murcia´s Cifras selectas para guitarra:A new source for the baroque guitar